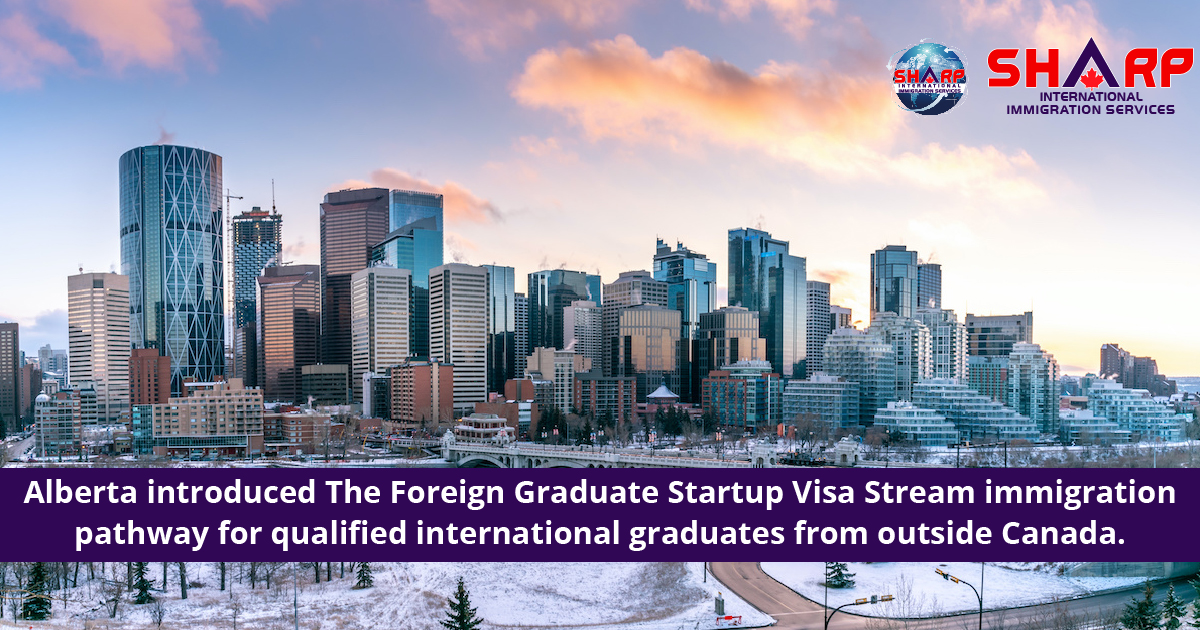 January 27, 2021
Alberta introduced The Foreign Graduate Startup Visa Stream immigration pathway for qualified international graduates from outside Canada is now open to apply thru EOI with AINP portal.
In order to be eligible for the Foreign Graduate Start-Up Visa Stream, candidates must graduate from a post-secondary institution outside of Canada within the last 2 years and have an educational credential equivalent to a Canadian degree.
Among other criteria candidates must also have;
➖ A minimum of 6 months of full-time work experience in the management or ownership of a business or work experience with a business incubator or business accelerator;
➖ A business plan with financial forecasts;
➖ S 10-minute presentation of the proposed business, focusing on what investors would like to see,
➖ A minimum CLB level of 7 for each skill in English or French;
➖ Ability to show a minimum of 34% ownership if their business is located in an urban centre or 51% if located in a regional area outside of Alberta's two major cities, Calgary and Edmonton;
➖ A minimum level of investment from the applicant's own equity, a recognized Canadian financial institution, venture capital or angel investment company before coming to Alberta.
➖ A letter of recommendation from an AINP-approved designated agency;
➖ Demonstrate that they have the funds to set up their business and support themselves while launching their start-up.
Candidates are invited to submit their EOI on the AINP Portal and Profiles will then be given a score and highest-scoring candidates will be invited to submit a Business Application.
In addition to the new stream launched over the past days, the AINP offers two other streams for entrepreneurs interested in buying or starting a business in Alberta :
* Alberta Self-Employed Farmer Stream, targeting applicants with farm management skills and enough financial resources to invest in a farming business in Alberta;
* The International Graduate Entrepreneur Immigration Stream for recent international student graduates from Alberta post-graduation institutes.